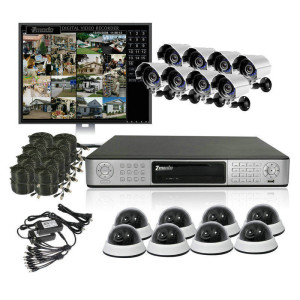 From simple observation systems to integrated networked digital video recording systems, we can meet any need.
Camera Surveillance or what is typically called Closed-Circuit Television (CCTV) is the use of video cameras and monitors for the purpose of surveillance.  CCTV systems are widely used for areas such as banks, casinos, airports, military installations, schools, industrial plants, and convenience stores.  CCTV may also be used to observe parts of a plant or building from a central control room. CCTV systems may operate continuously or only as required to monitor a particular event.
A more advanced form of CCTV utilizes digital video records (DVR's) providing recording for up to many years with a variety of quality and performance options and extra features such as motion-detection and email alerts.  Surveillance of the public using CCTV is particularly common in many areas around the world.